The challenge of bringing heat to the work site
We can think of two ways to bring warmth onsite for your crew and your materials.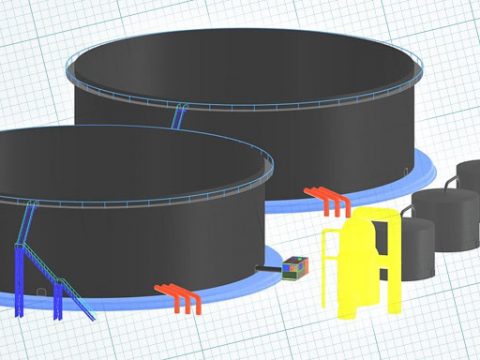 You could rent a lot of heaters and hope for the best. Easy enough, but you might not get what you want.
Or you could save time, money, and stress by renting from us.
We work with you to design a solution that's right for your project, and we do the installation.
Heating consulting and design
When we customize a solution for you, we factor in:
The historical weather of the area for the season and the topography of the site. Pockets of a landscape can be several degrees cooler than what is on record at the nearest observatory.
Barriers or restrictions in the site layout
Potential for optimization if you are heating more than one space at a time. This can save you money and time to complete your project.
On-site heater installations
Our installation approach reduces your risk and makes your job easier. We do the work to
Communicate with the site owner to get the safety approvals and safety indoctrination.
Hook up the power and fuel—and remove your risk in the installation.
Train your crew on the basic operation of the heaters so that they won't have to figure it out for themselves.
Provide one-on-one education for your mechanic on diagnostic skills and preventive maintenance. Your mechanic will thank you.
Planning for heating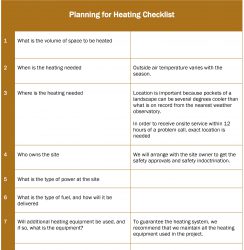 To help you figure out the heating needs of your project, we start with these eight basic questions. (You can also download them here.)
Volume of space to be heated
When the heating is needed

One of the most important factors is outside air temperature, and it varies with the season.

Where the heating is needed

Location is also important, because pockets of a landscape can be several degrees cooler than what is on record from the nearest weather observatory. And since our objective is to be onsite within 12 hours of a problem call, we use location information when we build our response plan.

Who owns the site

When you rent from us, maintenance is included. We arrange with the site owner to get the safety approvals and safety indoctrination.

Type of power on site
Type of fuel, and how the fuel is going to be delivered
Any additional heating equipment to be used, and if so, what is the equipment.

To guarantee the heating system, we recommend that we maintain all the heating equipment used in the project.

Background and expertise of your crew

If you have full time mechanics on-site, you will need less help from us. If you have an electrician and you move your heaters, you will need us less often.
Take the next step towards project success. Call us or send a message today to discuss your project.
Steady and efficient heating for a large project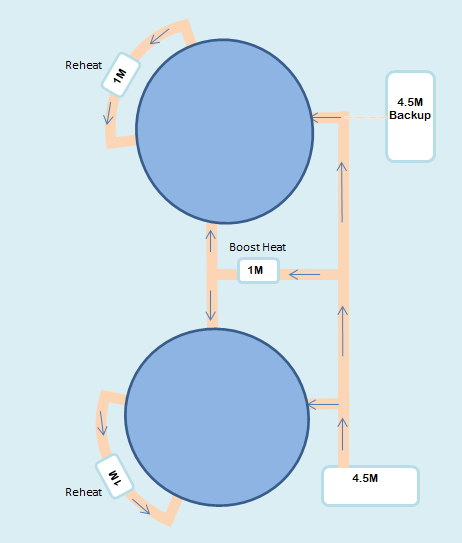 Two tanks are heated simultaneously using Desert Air cube heaters. The 5M BTU heater and one of the 1M BTU heaters provide the initial heat. Two more 1M BTU heaters reheat the air in each of the tanks, further maintaining constant even temperature.
This configuration is possible only with Desert Air cube heaters. The smart capabilities make heating solutions scalable.
Check out some of our recent heating projects.